EVENTS
E-CONFERENCE - "LAW UNDER THE CHALLENGE OF THE ENVIRONMENTAL CRISIS"
Wednesday 21 Οκτωβρίου 2020
E-CONFERENCE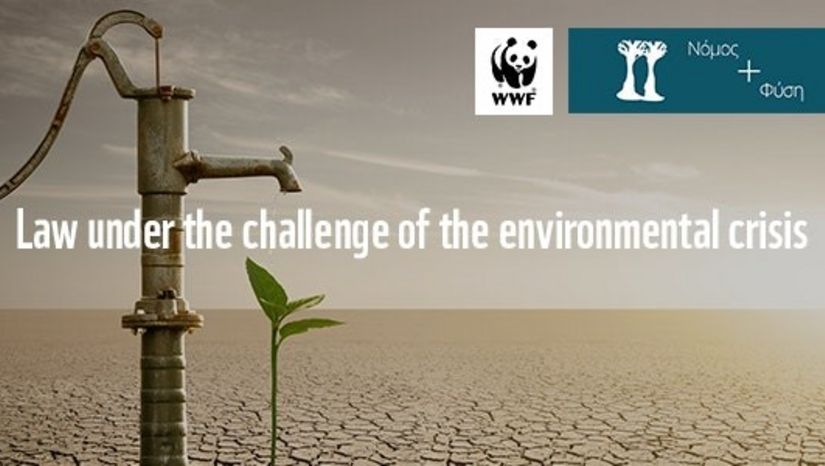 The non-profit foundation WWF Greece and the scientific association Nomos + Physis are glad to invite you on Friday, November 6th 2020 to the e-conference "Law under the challenge of the environmental crisis", which will be held under the patronage of H.E. the President of the Hellenic Republic Ms. Katerina Sakellaropoulou.
The conference will be held on the occasion of the publication of the 15th edition of WWF's annual report on the implementation of the environmental law in Greece and the 25th anniversary of Nomos + Physis, aiming to promote the public discourse on critical issues of the environmental law.
Recent scientific studies have analyzed the consequences of climate change and biodiversity loss on the planet and people's lives, and have concluded that urgent action is needed. All evidence shows that the next decades will be critical. Distinguished speakers are invited to join the discourse, in order to address a key discussion point: how could the environmental law adapt to and address these constantly changing circumstances?
H.E. the President of the Hellenic Republic Ms. Katerina Sakellaropoulou will address the conference.
The conference is primarily addressed to law practitioners, judges, lawyers, politicians, politicians' legal advisers, ministries' executives, NGOs and any individual interested in environmental law issues.
Due to restrictions addressing the COVID-19 pandemic, the conference will be held online via the Zoom platform. Simultaneous interpretation in Greek and English will be available through the course of the conference.
You can find the abstract of the conference here.
The program and the names of the conference speakers are available here.
Registration deadline: Friday, October 30th 2020
To participate in the conference, please, fill in the following registration form.
After concluding the registration process, you will receive detailed instructions on how to connect and use the Zoom platform.
We are looking forward to seeing you at the conference!
Demetres Karavellas Director WWF Greece
Anna Papadimitriou - Tsatsou Nomos + Physis